Brewer's Journal
Grilled Thai Beef Salad
Barrel Hall Executive Chef, Ty Bellingham, sheds light on an expressive, summer recipe to pair with Dark, Distant Light.
Recipe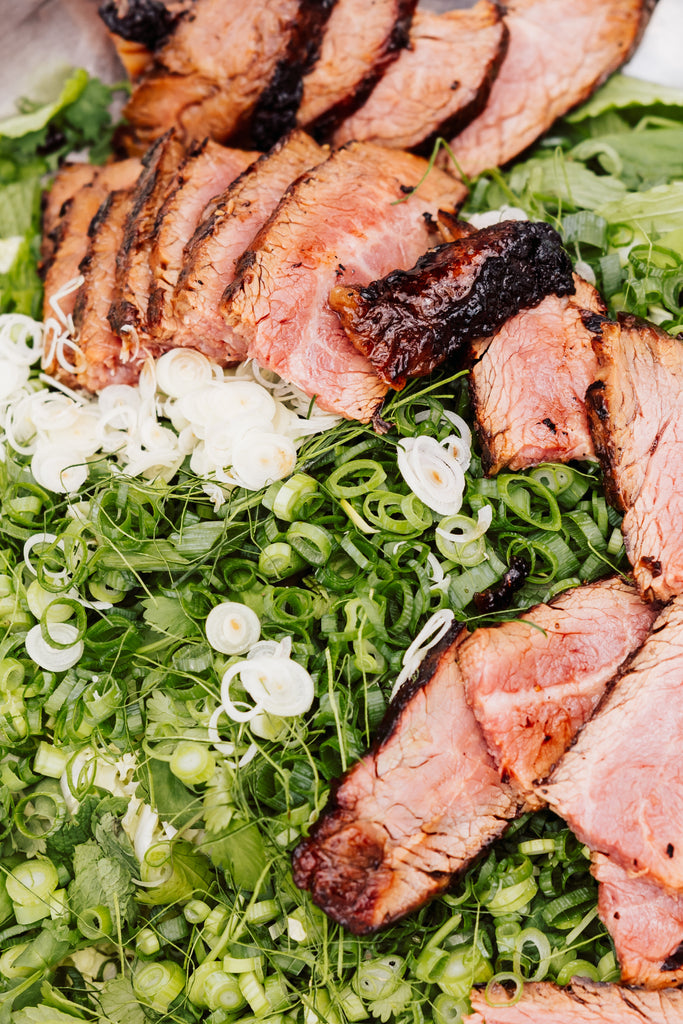 GRILLED THAI BEEF SALAD
Balancing light & dark, sour & spiced, sweet & smoky, bitter & smooth, the latest recipe from our Barrel Aged chef series has us seeing our Barrel Aged imperial stout in a whole new light. 
Made with tender flank steak & aromatic Thai Herbs, Barrel Hall Head Chef Ty Bellingham shows us how to make his fresh take on a traditional Thai Beef Salad!  
Crispy, tangy and vibrant, it's a dish that precisely balances the dramatic flavours of our Barrel Aged Imperial Stout, Dark Distant Light. So good it's now on the menu at Felons Barrel Hall too, otherwise let's fire up that home grill shall we? Full recipe below! 
Prep Time: 15 mins
Cook Time: 10-15 mins
Serves: 2
Ingredients
150 grams of flank steak
4 red shallots, sliced.
1 bunch green shallots .
Handful of mixed mint and coriander leaves
1 tablespoon ground roasted rice
1 handful of shredded Chinese cabbage
1 cucumber
Marinade
100mls oyster sauce
50mls dark soy
50ml light soy
Big pinch of white pepper
Dressing
Pinch of white sugar
150mls lime juice
75mls fish sauce
Pinch of chilli powder (depending how hot you would like it)
Method
Mix the marinade ingredients together and marinate the beef for 1hr+(try overnight for ultimate pow-wow!)
In a seperate bowl, combine the ingredients for the dressing and set aside.
For the roasted rice, place dry uncooked glutinous rice either on the stove or in the oven on low heat, regularly tossing the rice until slightly golden.
Allow rice to cool, then use a mortar and pestle to grind down into a fine powder.
Now, fire up the grill to cook steak to your preference.
Post-grilling, allow the beef to rest for 10 minutes, then slice across the grain.
Toss together the beef, shallots, mixed herbs and finely sliced Chinese cabbage.
Drizzle with salad dressing and let that roasted rice rain! 
Serve alongside wedges of fresh cucumber for extra texture.
DARK, DISTANT LIGHT