SURGEON & PANAGAEA (UK)
Thursday, 12 October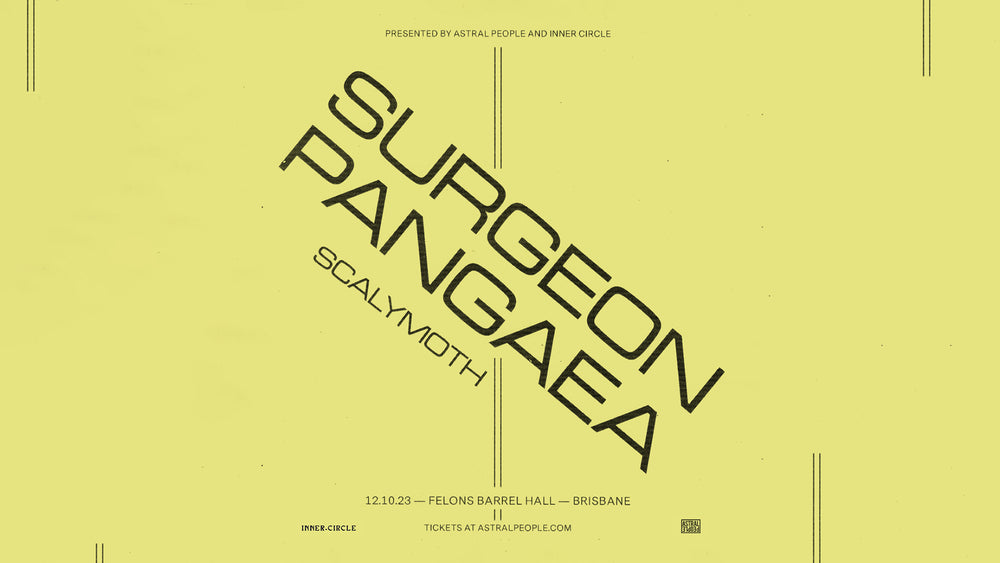 Astral people presents...
A monster double-header with two of dance music's most daring - Surgeon & Pangaea (UK).


SURGEON
Very few carry the same weight of reverence as Antony Child aka Surgeon. Since 1994 he has stood at the forefront of UK techno. Recently dubbed by Fact Magazine as "arguably the finest techno DJ in the world" - he has been an influential and prolific presence for three decades.
The Birmingham resident is one of the world's most in-demand, with DJ mixes for electronic households such as Warp and Fabric while filling calendars across the world. He has played every key club / event / festival worth its salt; helped pioneer Birmingham's House of God; and, held a 3 year residency at Tresor (Berlin) during its all-powerful 1990s peak.
Surgeon has perfected his unique production style. A tough techno sound with an industrial murk about it, but also plenty of funk, swing and a sophisticated sense of dub-space learned in part from his Chain Reaction contemporaries in Berlin. Surgeon proves that hard can also be smart, sensuous and
dan
ceable, the influence of Surgeon on the 2010-ruling Ostgut / Berghain sound – DJs/producers like Marcel Dettmann, Shed et al – is substantial. Boasting an immense catalogue, Surgeon club weapons are omnipresent in record bags of DJs across generations the world over.
PANGAEA

One of the most singular and far-reaching figures in
dan
ce music today. Pangaea aka Kevin McAuley has been at the cutting-edge of electronic music as a producer and DJ for well over a decade.
Terms such as "forward-thinking" and "boundary-pushing" are perhaps too freely applied when describing artists of the day. One who can certainly stake claim to such narration is Pangaea. Co-founder of the heavyweight label Hessle Audio alongside fellow luminaries Ben UFO and Pearson Sound, along with his own imprint Hadal, his impact has been significant. His productions and DJing are steeped in expansive references to UK
dan
ce music cultures while offering an explosive mutation all his own. A strange, banging energy comes from his finding space between sounds and scenes, and these uncharted paths continue to hold new discoveries many years on.
As a DJ he is one of the world's most in-demand - a regular at the likes of Berghain, fabric, Dekmantel, Glastonbury, Junction 2, and Houghton. All the while his long-running residency for Rinse FM, functions as an ongoing engagement with different crowds and styles creating a laboratory for testing ideas. With a golden ear for heighted
dan
ce music, Pangaea knows exactly how to make you move from rhythms and frequencies you may not expect.
Don't miss your chance to catch two of the world's finest clubbing authorities.
TICKETS HERE