Brewer's Journal
Cumin Spiced Chinese Lamb Skewers
Recipe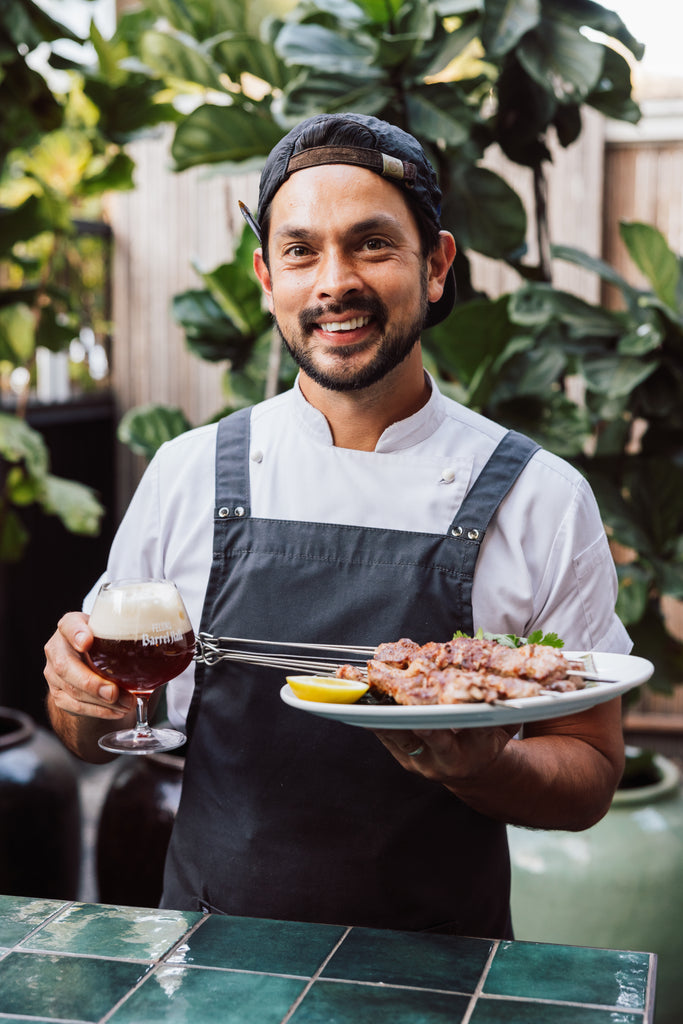 CUMIN SPICED CHINESE LAMB SKEWERS
Masterfully prepared by chef Louis Tikaram of Stanley Restaurant, to pair with our latest barrel aged beer release, Sun Drenched Fence! 
Prep time: 1hour
Cook time: 10mins
Serves: 2-3
Ingredients
700g of free range lamb
1 onion
1 tsp salt
1 tbsp chilli powder
1 tbsp ground cumin  
Method
Cut the lamb into 1cm cubes and place into a mixing bowl
Mix with onion and salt. Leave to marinate for at lease 1 hour.
Light up your grill or BBQ.
Skewer the lamb pieces onto bamboo or metal skewers. Evenly distribute the lean pieces and fatty pieces to help cook it evenly.
When the grill is hot, place the skewers on and flip frequently. 
Once the meat turns pale, sprinkle chilli & cumin powder all over.
Continue cooking until the meat is evenly browned, the inside should still be a little pink (Louis cooks his lamb medium-rare!)
Pop the cork & enjoy with a glass of Sun Drenched Fence - our latest barrel aged beer release brimming with rich malt flavour, notes of sour cherries & a refreshing acidity. Shop this release using the link below.
SHOP SUN DRENCHED FENCE