Brewer's Journal
Raspberry Duck Bahn Mi
Enjoy a playful take on the Bahn Mi, designed to pair with our newly released barrel aged framboise - Raspberry Funk! Prepared by Clarence Head Chef, Ben McShane. 
Recipe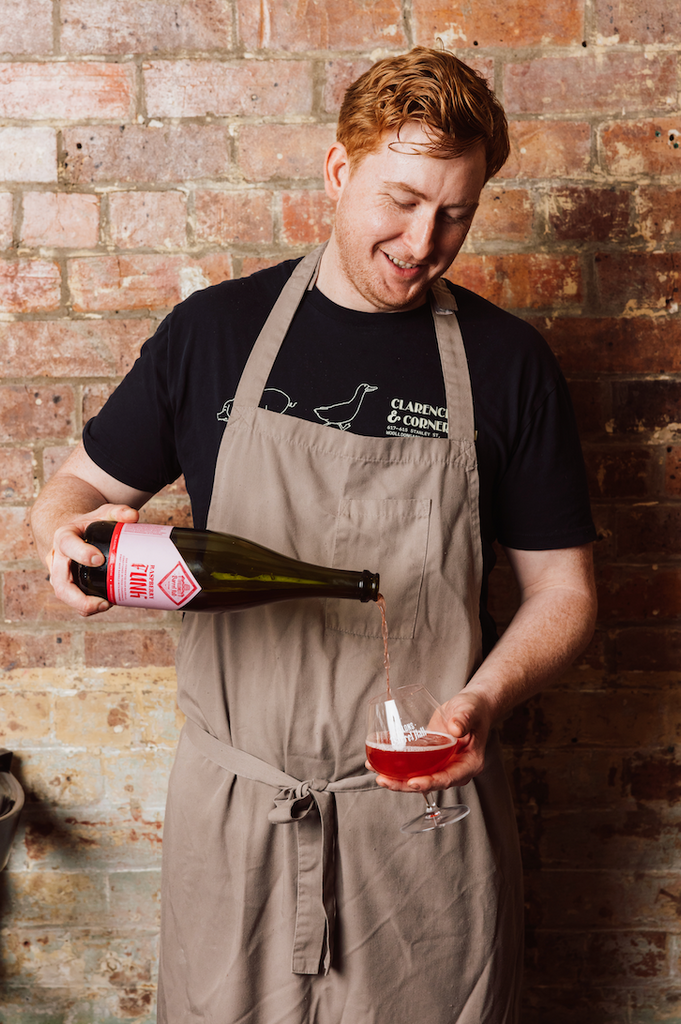 Raspberry Duck Banh Mi
Prep time: 15 mins
Cook time: 1.5hr
Serves: 4
Ingredients 
6x duck legs (can also substitute for chicken marylands) 
300g frozen raspberries
20g ginger
20g lemongrass
20g garlic
2pc spring onion finely sliced
2x birds eye chilli's
40mls fish sauce
30g castor sugar
1x lime
1x Lebanese cucumber
1x bunch red radish
Bitter salad leaves
4x bahn mi rolls
Raspberry Duck Bahn Mi Recipe
Roughly chop ginger, garlic, lemongrass, and chilli, the place into a mortar and pestle. Work into a rough paste.
Sear the skin side of the duck legs in a medium heat pan until golden brown, then remove from pan and discard most, but not all of the fat.
Place the shallots, and ginger/ garlic/lemongrass paste into the pan with the and sweat down for around 2 mins then add raspberries, sugar, and fish sauce to the pan.
Place the duck legs skin side up into the raspberry base with around 200mls of water and bake in an oven at 150 degrees for 90 mins.
Remove from oven and allow to cool.
Once the duck is cooled, pull the meat off the bone and combine with ½ the raspberry mixture.
Add the juice of one lime to the remaining raspberry mix and use to also liberally dress the cucumber salad.
To assemble, place duck mix on the roll, then the crispy skin and a generous amount of salad.
Find a spot in the sun, pour yourself a glass of Raspberry Funk, take a big bite of Bahn Mi and wash it down!
Tip! Ben bakes his own crusty bread rolls, we recommend snagging a few fresh rolls from your local bakery to craft this carbohydrate delight from home.  
SHOP RASPBERRY FUNK